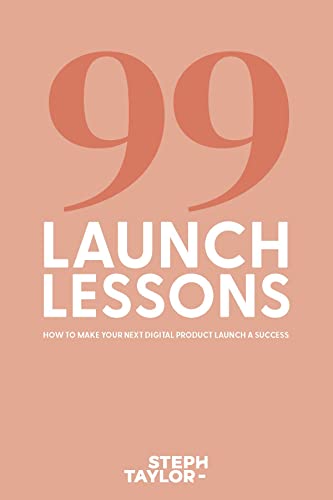 Want to stop trading time for money and start impacting thousands of people? Here are 99 lessons in building a profitable online business by launching an online course, membership or group program.
It takes a lot of time, energy and perseverance to run a business, which is why you're keen to add a profitable digital product to your offer suite. You know that an online course, membership or group program means you can:
Scale back the hours you work and spend more time doing what you love—like spending time with your family, travelling the world or finally doing those pottery classes you've wanted to do forever.
Expand your reach, help more people, and widen your impact.
Scale your business without trading more time for dollars.
Grow your revenue and walk away with more profit in your pockets.
In 99 Launch Lessons, digital product launch strategist and online entrepreneur Steph Taylor shares what she's learned from building a million-dollar digital product business and teaching more than 2,000 entrepreneurs how to do the same.

This book is for you if:
You know you want to launch a digital product, but you've been procrastinating it forever—or you've already launched it with underwhelming results.
You know that your product idea could help so many people if only you could get it into their hands.
You're afraid nobody will buy it and that it'll all have been a waste of time and money.
You want to build a profitable online business that works for you (not the other way around), but you just can't figure out how to get from where you are to where you want to be.
It only takes one digital product and one solid launch strategy to totally change the trajectory of your business. And it doesn't have to be complicated.

You just need a little know-how, some basic systems, and the confidence to launch again and again.

Whether you're brand new to business or have a few years of experience already, this book will ensure you avoid the tripping hazards and shortcut your path to building a profitable online business.