Chapter Three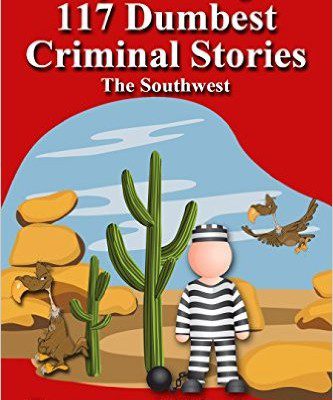 The Most Bizarre Dumbest Criminals from the Southwest
ARIZONA: Don't believe everything your family may tell you. Law enforcement officials have egg on their faces after their spokeswoman learned that she was an undocumented alien living illegally in the U.S. Carmen Figueroa, who worked for 13 years as an officer and spokeswoman for the State Department of Public safety, resigned after her brother applied for a visa and underwent a background check that revealed his family's immigration status. Ms. Figueroa said her family had told her they had legally immigrated to the States. D'OH!
TEXAS: This kind of foolishness even makes Rastafarian beliefs sound rational… A Texas Tech student was allowed to wear a pasta strainer on his head for an official state ID card.  Eddie Castillo convinced the Department of Public Safety he should be allowed to wear the strainer based on his religious freedom to worship the "Flying Spaghetti Monster." He stated further, that members of his "Pastafarian" church pray to the Flying Spaghetti Monster to advocate for greater separation between church and state.
TEXAS: Could the headline have read…"Judge gets pissed off in the men's room!" A man received a 30 day jail sentence for contempt of court after criticizing a judge in a courthouse men's room.  State District Judge Jack Robinson ordered 69-year-old Don Bandelman released following two days in jail after a state appeals court in Austin made inquiries into the matter.  Robinson had granted temporary custody of Bandelman's 13-year-old granddaughter to his son's ex-wife.  Records reviewed by the Austin newspaper show Bandelman followed the judge into the men's room at the Caldwell County courthouse and berated him as "a fool" for his ruling.
TEXAS: Fat chance he won't beat a Carrying a Pistol without License charge. A 500-pound inmate was searched twice before he was sent off to the Harris County jail in Texas.  But guards never found the gun he'd hidden under the flabs of his own flesh.  The 25-year old man finally came clean to an officer before he was due to take a shower.
How dumb can a criminal be? Dumb enough to make you laugh out loud at these true stories of really dumb criminal activity. This volume of Professor Birdsong's 117 Dumbest Criminal Stories: The Southwest is written just for fun and enjoyment. It showcases the kind of many funny and weird criminal law stories that he has found and written about since 2010. The stories in this volume come to you from the states of Arizona, California, New Mexico, and Texas — the Southwest region of the U.S. Professor Birdsong has found out a lot of dumb criminal stories from the Southwest. They include, Drunk and/or Disorderly Dummies from the Southwest; Dumbest Robbers of the Southwest; and includes a chapter of the most bizarre dumbest criminals of the Southwest.
Readers will learn of:
the cross-dressing San Diego man who went on a rampage in a Denny's restaurant when he believed that his cell phone had been stolen;

the story of the California man arrested for hoarding and keeping more than 400 snakes in his home;

the burglar who was arrested after he tried to break into a college office and became so entangled in the venetian blinds he could not get out;

then there is the Texas "panty robber' who for two years broke into homes and stole women's underwear;

the Arizona story about the bank robber who pulled off the job, received money and was caught shortly thereafter when he stopped down the street from the bank where he stopped and ordered beer and pizza with some of the bank loot;

the one about the Dallas woman who bit off her boyfriend's lower lip while kissing him at midnight at a New Year's party – she was charged with aggravated assault;

the Texas bank robber after receiving the loot tipped the teller with one of the $20 bills she had just given him;
and so many other stories about dumb criminals from the Southwest that make this anthology worth reading and will make you laugh out loud.
************
About the author:
Professor Birdsong received his J.D. from the Harvard Law School and his B.A. from Howard University. He teaches law in Orlando, Florida. After graduation from law school he worked four years at the law firm of Baker Hostetler. He then entered into a varied and distinguished career in government service. He served as a diplomat with the U.S. State Department with various postings in Nigeria, Germany and the Bahamas. Professor Birdsong later served as a federal prosecutor. After leaving government service, and before he began teaching, Professor Birdsong was in private law practice in Washington, D.C.
Find Pfr Birdsong on his website and on Twitter @Prof_Birdsong, on Literary Addicts and Goodreads.
---
Follow the Tour Here