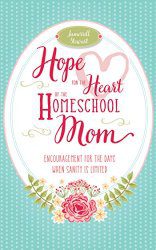 Hope. Encouragement. Sanity. On any number of homeschooling days, I've needed all three. It's not that
homeschooling is an unwanted chore. Homeschooling my children is one of my greatest joys. It's a
privilege. I'm so incredibly blessed by this undertaking.
And I'm challenged. I'm pulled. I'm stretched. I'm growing. I'm finding my reheated coffee in the microwave at 2 p.m. wondering where the morning went. Trying hard to soak up the sweet and sacred moments with these souls and miss stepping on the Lego pile in the process.
Friend, I'm sure you've felt the same.
The pages of Hope for the Heart of the Homeschool Mom is a collection of encouragement to prayerfully strengthen your soul for this God-given journey. A journey that's beyond stretching and beyond worth it. Grab this  awesome book here.