Valentine's Day will soon be upon us. Not in the mood yet, yea me neither. But here are some valentine kindle freebies that just might get you that loving feeling back.
The St. Valentine's Day Cookie Massacre: A Hatter's Cove Gazette Mystery Novella 1
It's Valentine's Day in quiet, cozy Hatter's Cove, Florida and food columnist, Kat Archer, has been assigned the event of the year, the grand opening of Miss Dolly's Cookie Jar and Sweets Emporium. What begins as a run of the mill, albeit tasty, assignment turns into something much more dangerous when one of the Cookie Jar's employees is poisoned. Now Kat is chasing the biggest story of her life, while trying to catch the eye of her handsome editor and avoid becoming the killer's next victim.

Weekend Breakfast Ideas: Ideas for Valentine's Day
Is Valentine's Day coming up and you don't know what to do for that special someone? Do you have an anniversary coming up soon? How about Mother's Day? Or is it just a lazy Saturday morning and you want something delicious for breakfast? This E-book can help with all of these situations. You'll see multiple ideas for breakfast in bed, french toast, pancakes, scones, muffins and other great breakfast foods. Are you in the mood for breakfast for dinner? Great! These recipes are good for that too!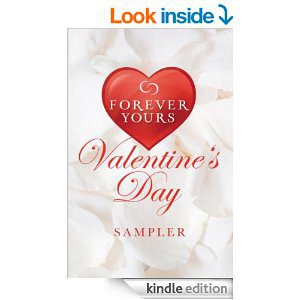 Forever Yours Valentine's Day Sampler
Forever celebrates its diamond tenth anniversary with this special Valentine's Day sampler of sparkling romance titles featured on the Forever Yours digital-first list.
In Ember, Kristen Callihan presents the mesmerizing prequel to her gothic Darkest London series.
Bestselling author Jennifer Haymore offers another chapter of the scandalous Donovan family in Once Upon a Wicked Night.
Cynthia Garner introduces a fearless female soldier whose heart-pounding journey takes her across dimensions and Into the Rift-to a love she never knew existed.
In Hailey Edwards's Soul Weaver, Chloe's life takes a dramatic turn when she meets the angelic Nathaniel, and finds a love that defies the boundaries of Heaven and Earth.
Wedding bells are ringing in Hope Ramsay's delightful and charming Last Chance Bride.
Vicky Dreiling turns up the heat with a tale that introduces the Sinful Scoundrels, rakish noblemen who are about to meet their match in A Season for Sin.
Love takes a suspenseful and dark turn in Debra Webb's Obsession, in which a law-enforcement agent must face a serial killer from her past.
Making her fiction debut with Renegade, Nancy Northcott presents a fast-paced paranormal romance featuring a sexy sheriff hunted by magical criminals.
The rustic Texas town of Maverick Junction is the setting for the sizzling tale of a rough-and-tumble cowboy and the heiress who wins his heart in Lynnette Austin's Somebody Like You.
And finally, Forever Yours proudly concludes this collection with Jessica Lemmon's Tempting the Billionaire, a sultry, tantalizing chronicle of two lovers who discover the perfect merger between business and pleasure.
And lastly for those that don't have a lot of money to spend on Valentine's Day there is this awesome book.

Valentine's Day: The Top 10 Most Romantic and Inexpensive Dates
At a loss for what to do for Valentine's Day with that special someone? Want to impress your date? Look no further. This book was specifically designed for you. Not only will you be able to treat that special someone to a romantic date but you will also save a few bucks during the process. The top 10 romantic and inexpensive dates will help guide you and help you decide what to do for Valentine's Day. Why Wait? Learn the top 10 romantic and inexpensive dates today!
So I hope these Valentine Kindle freebies will get you in the right state of mind.