Disclosure: I received a complimentary copy of this book for the sole purpose of this review. No other compensation was provided. However my opinion of how cute this book is all mine.
I recently read a children's book called The Amazing Adventures of Ellie The Elephant: Ellie Makes a Friend. First let me say that Ellie is just adorable. This book is about a stuffed animal named Ellie that has moved to a new place to live and finds it a little lonely. She goes to all these places and wished that she had a friend to share these places with because after all things are better with friends. Ellie decides to go to the library and read some books about friends and she realizes that she can't find friends unless she reaches out  her hand in friendship.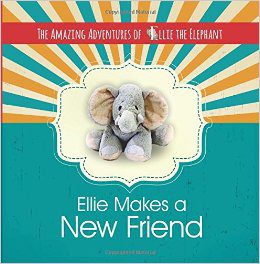 I love how this book is portrayed. I also love that it was written by Marci and Ellie Fair,  a mother and her 10-year-old daughter. How cool is that? I wish I had thought to write stories with my girls. I love how there is a social media call to action at the end of book and that the real Ellie uses her stuffed animals in the book.
This would be a great book about teaching how important friendship is to people. And that sometimes being alone is not always the best thing but you have to work hard to find friends they aren't just going to fall into your lap.
Although this book is totally adorable, I felt that elephant's name, Ellie,  was totally overused. But it does not take away how much I love this book. Check out The Amazing Adventures of Ellie The Elephant: Ellie Makes A New Friend! (Volume 1)
 if you are looking for an awesome children's book that teaches about the power of friendship.
Check back tomorrow when I review another book about Ellie and her first plane ride.