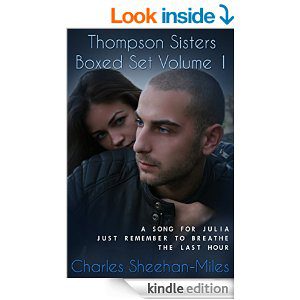 Three complete novels in one. This boxed set edition contains the complete text of three bestselling novels by Charles Sheehan-Miles:
A Song for Julia

Just Remember to Breathe

The Last Hour
A Song for Julia
Everyone should have something to rebel against. Crank Wilson left his South Boston home at sixteen to start a punk band and burn out his rage at the world. Six years later, he's still at odds with his father, a Boston cop, and doesn't ever speak to his mother. The only relationship that really matters is with his younger brother, but watching out for Sean can be a full-time job. The one thing Crank wants in life is to be left the hell alone to write his music and drive his band to success. Julia Thompson left a secret behind in Beijing that exploded into scandal in Washington, DC, threatening her father's career and dominating her family's life. Now, in her senior year at Harvard, she's haunted by a voice from her past and refuses to ever lose control of her emotions again, especially when it comes to a guy.When Julia and Crank meet at an anti-war protest in Washington in the fall of 2002, the connection between them is so powerful it threatens to tear everything apart.
Just Remember to Breathe
Alex Thompson's life is following the script. A pre-law student at Columbia University, she's focused on her grades, her life and her future. The last thing she needs is to reconnect with the boy who broke her heart. Dylan Paris comes home from Afghanistan severely injured and knows that the one thing he cannot do is drag Alex into the mess he's made of his life.When Dylan and Alex are assigned to the same work study program and are forced to work side by side, they have to make new ground rules to keep from killing each other. The only problem is, they keep breaking the rules. The first rule is to never, ever talk about how they fell in love.
The Last Hour
Twenty-seven year old Carrie Thompson-Sherman has the life she always wanted: her PhD, a prestigious fellowship, and an amazing husband. Her charmed life begins to unravel as a jealous colleague puts her fellowship in jeopardy and a hideous secret Ray carried home from Afghanistan comes to light. Hanging on by a single thread, a disastrous accident puts both her husband and her sister's lives at risk. Heartbroken, Carrie will be faced with the most devastating choice of her life. A choice that will change everything.
Grab Thompson Sisters Volume 1 for $2.99 at Amazon.
Andrea Thompson is smart, assertive and beautiful. She's also desperately lonely. Raised in Europe by her grandmother, she struggles knowing neither of her parents wanted her, and she has no idea why. When Andrea receives an urgent call from her older sister Carrie, she agrees to fly to the United States to help. Carrie's newborn daughter Rachel needs a bone marrow transplant. What Andrea doesn't know is that her return to the United States will launch a chain of events that will uncover secrets hidden for decades. Secrets which will rock the Thompson family and ignite a political firestorm. Secrets that some will kill to protect. Grab this box set for $2.99 on Amazon. And while you are there grab Falling Stars for $0.99.