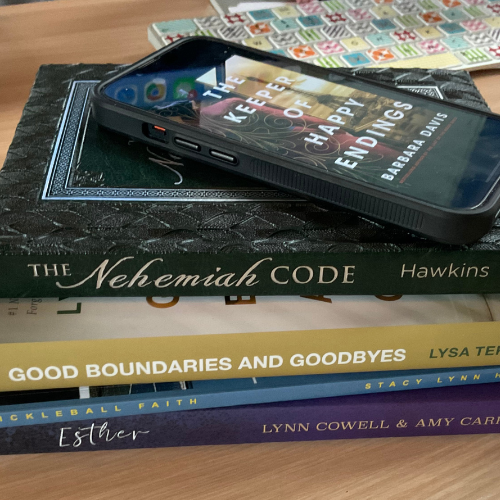 Welcome to my latest post on books, on what I'm reading! As an avid reader and lifelong learner, staying up-to-date on the latest titles and authors is both exciting and fulfilling. In this article, I will share with you the books that I am currently reading, details of the plot, themes, and characters, as well as my thoughts and reviews.
Good Boundaries and Goodbyes
This is the first of two Bible studies I am doing this month. I am doing this study in conjunction with Proverbs 31 Ministries. Lysa TerKeurst, the author of the book, is the CEO of the ministry. I have heard Lysa speak at several events that I have attended, and I just love her. Her books are always thought-provoking.
Book Summary
Is it unloving or selfish to set a boundary? Are Christians ever called to walk away from a relationship that's no longer safe or sustainable? Lysa TerKeurst deeply understands these hard questions in the midst of relational struggles.
But after thousands of hours of counseling intensives and extensive theological research that transformed the way she defined healthy relationships, Lysa is now more committed than ever to loving people well without losing the best of who she is. She wants to help you do the same. In this book, Lysa will help you:
Understand the five factors to remember when implementing healthy boundaries.
Determine the appropriate amount of personal and emotional access someone has to you based on how responsible they'll be with that access.
Stop being misled and emotionally paralyzed by wrongly interpreted or weaponized scriptures that perpetuate unhealthy dynamics in difficult relationships.
Overcome the frustrating cycle of ineffective boundary-setting with realistic scripts and practical strategies to help you communicate, keep, and implement healthier patterns.
Be equipped to say goodbye without guilt when a relationship has shifted from difficult to destructive and is no longer sustainable.
Receive therapeutic wisdom you can trust directly from Lysa's Christian counselor Jim Cress, who weighs in throughout the book.
You'll be relieved to learn that boundaries aren't just a good idea, they're a God idea.
Grab your own copy of Good Boundaries and Goodbyes here.
Esther: Seeing Our Invisible God in an Uncertain World
This is the second of two Bible studies I am doing this month. I am actually doing the study with the authors of the book. I knew I was going to have to do this study when I saw Amy Carroll's name on it. I have read and loved so many books by her. You can read about how one of her books impacted me here. I love that the authors are southern gals like me.
Book Summary
What do you do when God seems to have vanished?
When you have the decision to make when your stability is shaken, when your sure-fire plan fails—when everything is spinning out of control…
Esther is the perfect partner for seeing our invisible God in uncertainty. Though she lived centuries ago, Esther speaks to us when we run into limited control and resources. We find in her strength and fortitude you and I need today. A strength we discover as we follow her process of listening, feeling, doing, and speaking. We'll see that Esther carved a pathway, not only with faith but with influence, for all women who find themselves walking through uncertainty. 
This six-week, in-depth study of the book of Esther is a gritty dive into a woman's story that teaches us to:
Listen to wise people who fill our gaps in understanding
Embrace your feelings as a catalyst for God-directed action.
Do the work God assigns you even when in doubt.
Speak up with confidence, knowing that God has a place for your voice in His story.
This study guide includes biblical and historical background insights, Bible study, practical application, and questions for reflection.
You can grab your own Esther Book here.
The Keeper of Happy Endings
I just finished this book this morning, and I was crying at the last 3-4 chapters. It was good. I mean, just look at the summary of this book.
Book Summary
Soline Roussel is well-schooled in the business of happy endings. For generations, her family has kept an exclusive bridal salon in Paris, where magic is worked with needle and thread. It's said that the bride who wears a Roussel gown is guaranteed a lifetime of joy. But devastating losses during World War II leave Soline's world and heart in ruins and her faith in love shaken. She boxes up her memories, stowing them away, along with her broken dreams, determined to forget.
Decades later, while coping with her own tragic loss, aspiring gallery owner Rory Grant leases Soline's old property and discovers a box containing letters and a vintage wedding dress, never worn. When Rory returns the mementos, an unlikely friendship develops, and eerie parallels in Rory's and Soline's lives begin to surface. It's clear that they were destined to meet―and that Rory may hold the key to righting a forty-year wrong and opening the door to shared healing and, perhaps, a little magic.
You can buy this book here. And if you have Kindle Unlimited, it is free.
Pickleball Faith
This book is actually for research for an upcoming Chats From the Blog Cabin podcast episode. The author will be coming on the pod soon. I always like to take the time to read the books of the authors I interview.
Book Summary
Pickleball Faith is a personal journey of faith as the author shares experiences in becoming part of a pickleball community. Written as a personal journey and reading like a journal, the author shares her thoughts about others and how God changes her through the process of being in relationships through pickleball.
Using the author's background as a therapist, insights in the book address not only interpersonal relationships with others but also a personal relationship with God. It's a journey of belonging and also becoming. Compassionate, raw, and real, the author dives into issues of conflict, death, sportsmanship, and faith. You will be inspired to consider not only whom you're playing with, but, more importantly, whom you are becoming personally and in relationship with God.
You can grab the book here.
The Nehemiah Code: It's Never Too Late for a New Beginning
This book has made such a huge impact on how I think about projects I start. I actually started this book back in December, but I only read a few chapters at a time to let it sink in. I also love that 100% of the profits of the book go back into the ministry. I'm reading this book because I always seem to quit the projects I start. Do you feel me?
Book Summary
Who isn't in need of a new beginning? Bestselling author O. S. Hawkins knows that whether it be broken relationships, integrity missteps, or loss, most of us will spend some or much of the next year trying to restore something. The good news is . . . it's never too late for a new beginning.
Hawkins, with more than 550,000 books sold, now turns his eye to another biblical hero in The Nehemiah Code. Nehemiah was a civil servant from 2,500 years ago who applied principles found in the Bible for insight during hard times, help to start again, and encouragement to rebuild a life.
The Nehemiah Code dives into a theme that will resonate deeply with a wide variety of readers – insight during hard times, help to start again, and encouragement to rebuild a life. Topics include:
Taking personal responsibility
Moving out of your comfort zone
Rebuilding team spirit
Holding those around you accountable
Doing what is right
Finishing strong
All author royalties go toward Mission: Dignity, an organization that supports retired pastors and their spouses living near the poverty level.
You can grab the book here.
In conclusion, I'm very excited to be reading all of these books. I'm looking forward to exploring the stories and learning more about myself and the world. My hope is that by reading, I will open my mind up to new, creative ideas, and be able to look at things from a different perspective. I also hope that by engaging with these books, I will be able to make meaningful connections with other readers and writers.
So now you know what I'm reading, tell me, what books are you currently reading?