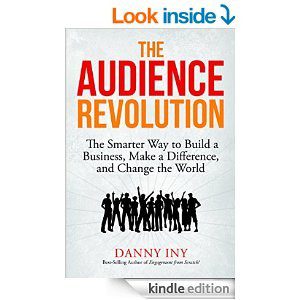 Did you know that there's a single business building secret that is directly responsible for the success of companies ranging from Copyblogger to Netflix, authorities like Neil Patel and Seth Godin, and thousands of other businesses?
That secret is the Audience Revolution: the new and better way to build a business, make a difference, and change the world.
In this short and easy read, you'll learn how this strategy is reshaping the business landscape, and creating the unique opportunity for aspiring entrepreneurs to make a massive income by making a deep and profound impact.
The big idea that I teach in the book is that – unlike the traditional strategy of a lot of old-school businesses – you don't start by thinking of something to sell, and then looking for people who want to buy it. Instead, you start by finding the people who resonate with your message and connect with your ideas, attract them to you, and then – once the audience is there – offering them the things that will help them the most. It's one of those ideas that may seem counter-intuitive at first, but once you think about it for a few minutes, it's hard to imagine how anything else ever made sense.
In the Audience Revolution, this idea is explained in detail, along with examples of how this approach to business has been used by successful businesses ranging from Netflix and Copyblogger, to celebrity consultants like Jim Collins and Scott Stratten, to best-selling authors like Seth Godin and Jeff Walker, to internationally renowned speakers like Randy Gage and Mitch Joel.
Through their examples, you'll learn how you can apply this Audience First strategy to your online business, to get you better results faster, make you more profitable, and decrease your risk, all at the same time. So what are you waiting for grab The Audience Revolution: The Smarter Way to Build a Business, Make a Difference, and Change the World
 while it is still free.