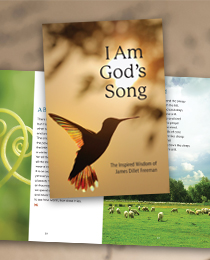 Unity poet laureate James Dillet Freeman once told a close friend he thought the heart of Unity was "words that change lives."
His inspiring words and beautiful poems have certainly touched hearts and encouraged friends of Unity for many years.
We've collected the wisdom of James Dillet Freeman and his best-loved poems in the latest booklet from Unity, I Am God's Song, available for you to request today.
Freeman's poetry still has the power to renew faith, provide comfort in times of grief, and inspire us to celebrate the wonder of joy and love we know as individual expressions of God.
It's a true keepsake booklet—the kind of touchstone you'll find yourself returning to as part of your prayer practice again and again.