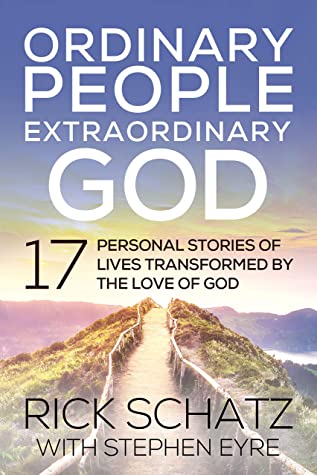 Do you feel that your life isn't extraordinary enough, your bank account isn't big enough or your social standing isn't high enough to do God's work? If so, you're certainly not alone. There are many reasons why people struggle to feel significant and purposeful in the eyes of God. Author Rick Schatz hopes to shift these perspectives with Ordinary People Extraordinary God: 17 Personal Stories of Lives Transformed by the Love of God, a collection of inspirational true stories of everyday people who answered God's call to service.
"Whatever it is, many of us deep inside fear we are not good enough or smart enough or capable enough to do anything important for God," Schatz explains. "But we must not listen to these messages — either from ourselves or from others. Instead we must listen to God, and He says we are more than enough."
Ordinary People Extraordinary God profiles personal friends and contacts of Schatz's who have served Jesus in a variety of capacities, such as becoming a hospice nurse later in life, writing books, developing resources to help others in need and serving in churches. The honest accounts don't hide the flaws and struggles that these servants endured. In fact, it's through pointing out the insecurities and the ups and downs that Schatz underscores the fact that God can and does use "ordinary people" to reach others with His love and grace. This book also shares that all God needs from His followers is their availability because He will supply everything else that is needed to get His work done.
As readers follow the 17 journeys featured in the book, it is Schatz's hope that the stories will encourage and challenge people to first seek God and then to serve Him for His glory.
"The goal of the book is to encourage others to seek a personal relationship with God and for those who already have such a personal relationship to dream bigger and reach for the stars in serving Him," Schatz adds.
Author Rick Schatz earned a BS in chemical engineering and an MBA from Harvard, where he became a Christian during his second year. In addition to a long career as an executive for several major corporations, including as the founder and part-owner of Creative Waterworks, Schatz has been a deacon, elder, Bible teacher and preacher since 1969.
He has also served on the board and leadership teams of On Target prison ministry, Spiritual Counterfeits Project and the John Guest Evangelistic Crusade in Cincinnati.
Schatz officially left the business world in 1990 and served with pureHope ministry as COO and president/CEO from 1990 until 2014. He joined The Prayer Covenant in 2014, where he served as president and currently serves as COO.
Born and raised in Cincinnati, Ohio, Schatz married his high school sweetheart, Sharon, in 1967. They have three grown sons and 11 grandchildren.