In the newest installment in the Hometown All-Stars series of children's books– 'Amira Can Catch'– the Hometown All-Stars befriend a new girl in school, Amira, who is a Syrian Refugee.  Author Kevin Christofora says his hope is that children will "be willing to befriend a new classmate or teammate, even if that person is from a different background."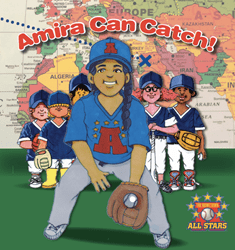 It's not a new tale: there's a new kid in school. She's shy, and a little quiet— but she blossoms into a joyful, silly child when befriended by some of the other kids. That's the story of Amira, the new kid at school in the upcoming "Hometown All Stars" children's book. Only, there's one difference with Amira: she's new because she left her home country of Syria over a year before.
The Hometown All-Stars series of children's baseball books teach children a variety of lessons: from basic arithmetic to healthy exercise habits, there's no shortage of things to learn. With Amira Can Catch, Christofora also makes a powerful statement about acceptance and inclusivity, in a time when it's extremely important to impart those values. Additionally, with the book series translated into over 20 languages, children from many different backgrounds can benefit from these lessons.
In Amira Can Catch, Amira struggles with spelling and math at school, and it could keep her from joining the team. Luckily, with some help for both her and the reader, she's able to join the Hometown All-Stars and play baseball with everyone else. Amira Can Catch aims to teach readers about Willie Mays and how to catch pop fly balls, as well as reading maps— as well as a number of other lessons.
"I want kids to be able to read Amira Can Catch and be willing to befriend a new classmate or teammate, even if that person is from a different background," says Christofora. Distributed by Midpoint Books, "The Hometown All-Stars" series is currently available on Amazon, as well as thehometownallstars.com; Amira Can Catch will be available in September.
Kevin Christofora
Christofora, a father and little league coach, hopes his books will inspire children to play outside more often. A devotee of America's pastime, he aims to teach young people about baseball and the habits of a healthy lifestyle in the form of a fun and educational bedtime story.
He has appeared on ABC News, ESPN Radio, 660 News Radio, Santa Fe – KVSF 101.5, and WDST-FM Woodstock, and has had articles featured in About Families Online, KidzEdge, Mom Blog Society, and several other publications.