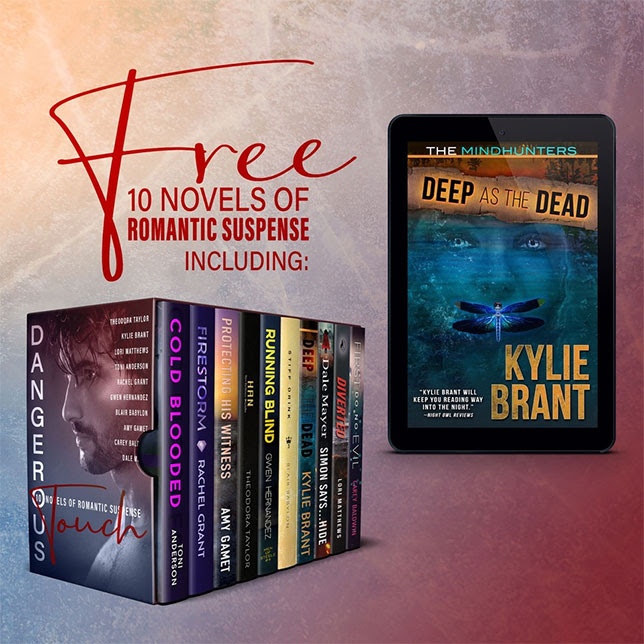 DANGEROUS TOUCH is a limited-time boxed set collection of 10 full-length Romantic Thriller & Mystery novels by some of the most exciting authors in the genre.

Cold Blooded by Toni Anderson
Firestorm by Rachel Grant
Protecting His Witness by Amy Gamet
HAN: Her Ruthless Mistake by Theodora Taylor
Running Blind by Gwen Hernandez
Stiff Drink by Blair Babylon
Deep As The Dead by Kylie Brant
Simon Says… Hide by Dale Mayer
Diverted by Lori Matthews
First Do No Evil by Carey Baldwin

A gripping collection that will keep you on the edge-of-your-seat as your heart pounds in anticipation. Perfect for fans of Laura Griffin, Nora Roberts, and Rebecca Zanetti.

Cold Blooded – Toni Anderson
Scrappy investigative journalist Pip West vows to determine how her best friend died—the only thing standing in her way is one devastatingly attractive, incredibly stubborn FBI agent. Hunt Kincaid needs Pip to stop interfering in his investigation before she spooks a ruthless terrorist and gets them both killed.

Firestorm – Rachel Grant
A spy and Green Beret set off on a mission to stop a coup in DR Congo, entering a jungle in which everyone is after the mother lode. Deep in the sultry rainforest, they forge a relationship more precious than diamonds while uncovering a conspiracy that could ignite the continent.

Stiff Drink – Blair Babylon
Arthur Finch-Hatten is six-feet four-inches of hot, ripped, loaded English nobleman who is wasting his life and his earldom so audaciously that his younger brother is suing him for control. Arthur stands to lose everything, including his cover as an MI-6 spy.

Running Blind – Gwen Hernandez
To rescue her sister from traffickers, Caitlyn must attend a gala with a fiancé she concocted to rebuff her boss's lecherous son. Can she convince former special operator Kurt to forgive past betrayals and play groom-to-be?

Protecting His Witness – Amy Gamet
Summer became a penpal to her Navy SEAL brother's teammate, his letters claiming a place in
her heart. But when her brother is killed, his friend disappears as well. Now her life is in danger and she seeks help from HERO Force, coming face-to-face with the man who'd stolen her heart.

Deep As The Dead – Kylie Brant
When Dr. Alexa Hayden becomes a serial killer's newest obsession, she and Sergeant Ethan Manning have to confront their painful past to predict the criminal's actions. The Tailor will leave no sin unpunished, and his unholy crusade has marked Alexa for death.

HAN: Her Ruthless Mistake – Theodora Taylor
I should stay away from her. Let her pay me back some other way.
But I can't. She's golden sunshine wrapped in a sexy little package, lighting up all the dark parts of my heart. And when she asks me why I did it, two words rise without thought or reason.
You're mine.

Simon Says Hide – Dale Mayer
Newly promoted detective Kate Morgan stands up for the victims in the world, never backing down or giving up. Having the gift of Sight, Simon St. Laurant is determined to help. Simon vows to save these children—even if it means dealing with the cranky and critical Detective Kate Morgan.

Diverted – Lori Matthews
When Chief Petty Officer Axel Cantor is sent to investigate the death of an American journalist on a cargo ship blocking the Suez Canal, it should be an open and shut case. He didn't count on running into his ex- girlfriend Sloan Bishop or a cold-blooded killer.

First Do No Evil – Carey Baldwin
Warning: Contents include one heart-melting hero—good luck getting this delicious detective out of your head. One reluctant heroine—wielding a Glock was never on her to-do list. One crazed villain. And a lifesaving vaccine with one deadly side effect—murder.